---


02:23:45 UT PFN 37 Nowe Miasto Lubawskie, Janusz Laskowski Czytaj


18:38:31 UT PFN 41 Twardogóra, Henryk Krygiel Czytaj

Po trzech wspaniałych nocach w sierpniu (w tym jednej, podczas której nastąpiły historyczne dla PFN, bo bazowe obserwacje tych zjawisk) - mamy kolejne masowe detekcje spritów w naszej sieci. Tym razem szczęście mieli operatorzy stacji PFN38 w Podgórzynie - Tomasz Krzyżanowski, oraz PFN41 w Twardogórze - Henryk Krygiel. Zarejestrowali oni odpowiednio 7 i 6 zjawisk. Przy tym najprawdopodobniej ponownie mamy detekcję bazową tego rzadkiego fenomenu.
Zasoby dostępnego na naszej planecie złota i innych kruszców są pozostałością po bombardowaniu meteorytów, jakie miało miejsce na młodej Ziemi. Bardzo precyzyjnie potwierdzili to naukowcy brytyjscy na łamach "Nature".

The huge number of 18 sprites was detected By Polish Fireball Network on 15-th/16-th July 2011 nigth. There were 8 detections on PFN37 (Nowe Miasto Lubawskie - Janusz Laskowski) and 15 of them on PFN42 (Blonie - Pawel Zareba)! Moreover, amazingly 5 of them were double station one.
The powerful thunderstorm plaqued East side of Poland at that time.

Two sprites were observed during the 8/9 July night, by the Polish Fireball Network PAV43 camera (PFN32 station, Chelm, Poland, 51.14°N, 23.50°E). Two phenomena in different shapes were recorded in few minute interval, both with the native storm visible. The camera software was MetRec, which did not have sprite-detecting feature. This made this case even more amazing. The lucky detections had been triggered by ligtnings illuminating the wall of clouds.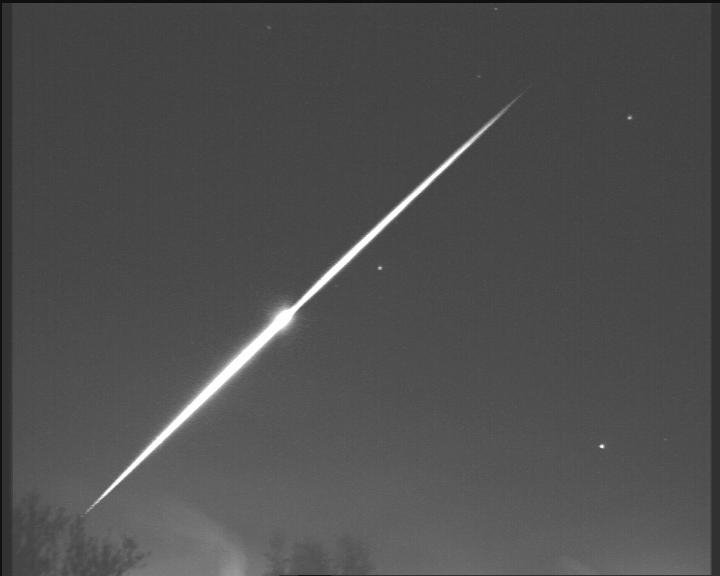 Fireball over Pomerania (1st station).
Nowe Miasto Lubawskie
Foto: PFN/Janusz Laskowski
Just two days ago, on 13th of October 2:52 UT, sky was lightened by bright meteor event called fireball. "Ball of light" could be seen above city Płock and flew North-East in direction of city Ostrołęka. Fireball was the brightest just above city Ciechanów with estimated brightness of -8 magnitude (approximately 400 times brighter than brightest stars). Probably it was not seen by many observers early in the morning sky.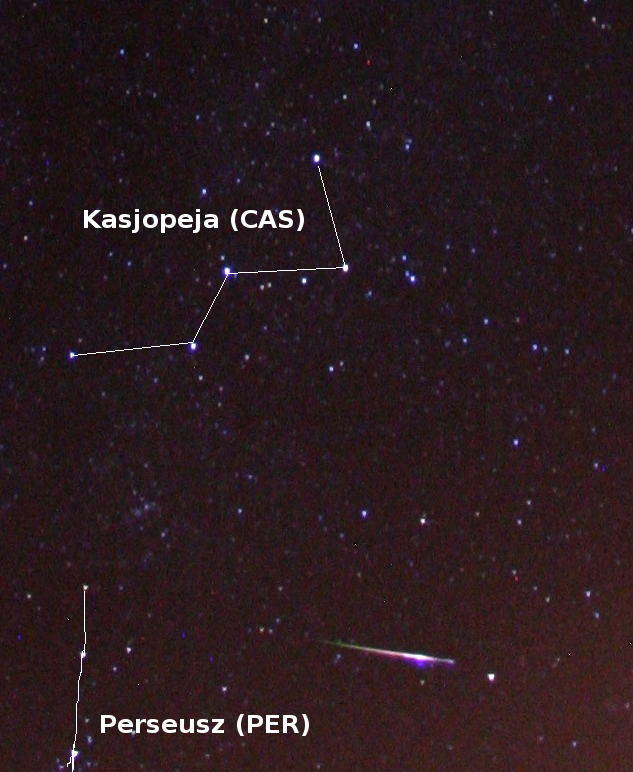 Foto: Perseid (K. Polakowski)
In Urzędów near Lublin 15 CMW's observers had the opportunity to observe maximum of Perseid's activity. Reporting observer - Krzysztof Polakowski - said that he counted about 200 Perseid events within 3 hours. Crude estimation of ZHR can be even over 100! The number of 21 events were photographed with digital camera's, three meteors were brighter than -4 mag.
It is worth to point that Polish observations are very critical for good estimation of ZHR. Only our group (among observers in Europe) had clear skies and nice limiting magnitude. In the coming hours CMW's observers will send their counts to IMO and add another points to activity graph.

In two weeks time next Astronomical Camp will start in Ostrowik Astronomical Observatory (Warsaw University). Main goal is to share our experience about observing and data analyzing techniques with 10 new observers. Five advanced observers will take scientific tuition of the new ones.

After summer holiday test and enhancements we give in your hands SCS program (version 1.15) which is written to make automatic meteor-shower association. This software will help you to fill reports from your plotted observations. Now you can check your own calculations of meteor-radiant association procedure or use it to report plotted observation to International Meteor Organization. Program is fed with files typed using Corrida.
Below you can see screenshot how SCS works under Linux OS. There is also version prepared for Windows users.